Welcome to Northern Lakes Propane where we strive to make you and your family as comfortable as possible. We provide many different products and services including heating, air conditioning, air quality control, and propane to guarantee your home is always the best place to be. Northern Lakes Propane is proud to be part of the Northern Lakes Cooperative family that was formed in 1932. A cooperative is a business that is designed to provide economic benefits to member owners as opposed to providing income for investors. Co-ops are owned and controlled by the people who use their services. The Co-op difference: Member owner control, focus on member owner needs, profits shared with member owners. Since the 1970's, Northern Lakes Propane has been providing propane, bulk fuels and HVAC services to the Hayward and surrounding communities. We are Hayward's oldest and most reliable propane provider. We are also your one stop business to keep you warm in the winter, cool in the summer and safe and secure throughout all the seasons.
Give us a call 715-634-4841 and let our team of professionals provide you with fast and affordable energy solutions.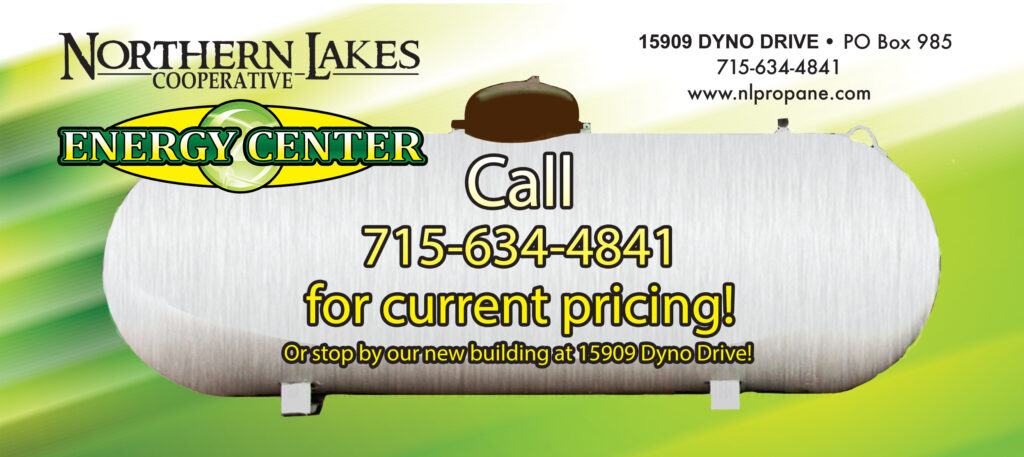 Propane Season Opener!
We are pleased to offer you our 2023-24 Propane Contract.
To contract: Click here for form! Select your payment type, fill in the number of gallons that you would like to contract, multiply the number of gallons against the price per gallon, write the total in the amount due, sign the form and return it to our office with your payment.
If you have a credit on your account that you would like to apply to this contract, please enter that amount on the form and deduct it from your total remittance amount.
If you have a balance due on your account, please remit payment prior to contracting for the upcoming season.
Sales tax applies only to second home owners and businesses.
Your price per gallon is determined by volume delivered and which plan you choose. This price is only applicable for the gallons you contract. Initial pricing is enclosed for your convenience. Due to volatile fuel prices, the cost of propane can fluctuate. Call the Propane Department at 715-634-4841 or visit our web site at www.nlpropane.com for current contract prices and lock in now.
Driveway & propane tank maintenance is important to the safety of our drivers and efficiency of our routes. Please be conscious of the points below:
• Homeowners are responsible for driveway and tank access
• Keep a path to the tank free of snow, ice and drifts
• Keep the propane tank clear of ice and snow
• We reserve the right to charge service fees for non-tank access and additional delivery attempts